Annual Meet On Scholarship And Sponsor A Student Schemes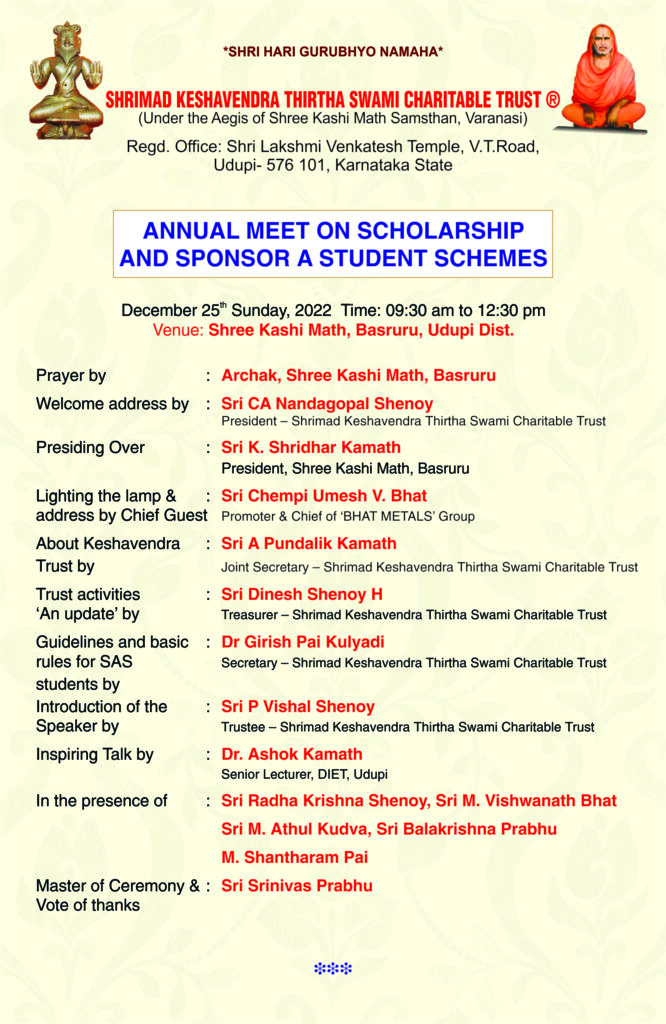 ANNUAL EVENT 2022: Annual event of Shrimad Keshavendra Thirtha Swami Charitable Trust, of Shree Kashimath Samsthan, Varanasi was held at Shree Kashi Math, Basrur, Udupi district on December 25th Sunday.
Sri Chempi Umesh V Bhat, Promoter and Chief of 'BHAT METALS' Group, Bengaluru was the chief guest for the event. Sri Umesh Bhat shared the positive side of following religious practices from young age and how these practices will help to lead a stress-free student life in this highly competitive world. Sri Umesh Bhat read the "Prarthana Stotram" written by H.H. SHRIMAD SUDHINDRA THIRTHA SWAMIJI and SHREE BHUVANDENDRA ASHTAKAM and made the students to repeat the Stotram. Sri Umesh Bhat shared the miracles witnessed by devotees with the blessings of H.H. SHRIMAD BHUVANENDRA THIRTHA SWAMIJI and shared the significance of chanting "Gayathri Mantra".
Dr Ashok Kamath, Senior Lecturer, DIET, Udupi delivered a motivational lecture for the benefit and successful future of the SAS students. Dr Kamath advised students to be enthusiastic, attain happiness with small achievements and advised useful tips for successful life. Dr Kamath also had a fruitful interactive session with all the students and advised the students to have focus, to be courageous and to have proper planning in life.
103 meritorious and deserving students got benefitted under "Sponsor A Student" (SAS) scheme of the Trust. 103 Students pursuing PUC, Degree, Professional courses and Master's degree were selected based on due diligence conducted by the Trust. Under SAS scheme, Trust provides substantial amount based on student's merit and financial background. Under regular scheme, about 175 students studying SSLC, PUC, Degree, Professional and Master's degree got benefitted.
President of the Trust, Sri CA Nandagopal Shenoy welcomed the guests, the meritorious students, parents and esteemed donors. Sri K Shridhar Kamath, President, Shree Kashi Math, Basrur presided during the annual event. Joint secretary, Sri A Pundalik Kamath briefed about Keshavendra Trust. Treasurer, Sri Dinesh Shenoy H updated Trust activities and various new initiatives. Secretary, Dr Girish Pai Kulyadi discussed guidelines and basic rules for SAS students.
Alumnus, Ms Pallavi Bhat introduced the chief guest, Sri Chempi Umesh V Bhat and was the master of ceremony. Trustee, Sri P Vishal Shenoy introduced Dr Ashok Kamath to the audience. Trustees, Sri Radhakrishna Shenoy, Sri M Vishwanath Bhat, Sri Balakrishna Prabhu and Sri M Shantharam Pai were present. Illustrious alumnus, Ms Shreenidhi was felicitated for passing out BAMS course with excellent academic credentials. Sri Jagadish Hegde and Sri Pawan Bhat were felicitated for their unconditional support for sincerely carrying out due diligence activities. The annual event concluded by proposing vote of thanks to chief guest, invited guests, resource person, acknowledging the support of Basrur Kashimath office bearers, esteemed donors, well-wishers, volunteers and media by Trustee Sri P Vishal Shenoy.