Dear Esteemed Donors,
Happy to share that on 31st March 2021 Trustees Girish Pai Kulyadi, Sri Dinesh Shenoy, Sri Shantharam Pai and Sri Vishal Shenoy visited Basrur Shree Kashimath on the occassion of Punyathithi Aradhana of H.H. Shrimad Keshavendra Thirtha Swamiji.
On behalf of Trust we prayed for success of Trust activities and well being of our Esteemed donors.
Update on 'Shree Bhuvanendra Arogya Card' (SBAC)
Since the launch of SBAC on 24th October 2020, the auspicious Maha Navami day, by the Divine Hands of Kashimathadipathi H.H. Shrimad Samyamindra Thirtha Swamiji, we the Trustees are extremely happy to share with all the esteemed donors that we have started supporting 10 needy patients of the society especially for those requiring Dialysis support. No doubt, this is a success by the divine grace of "HariGuru" and we wish to put on record that this is purely a donor driven charitable activity implemented through the Trust.
Currently, we are helping 9 needy Dialysis patients, and 1 needy patient suffering from severe Varicose vein ailments. The latter case is being specifically funded by a Donor who is a follower of Shree Kashimath Samsthan and well-wisher of the Trust.
We thank all our Well-wishers and Donors for their unconditional support for a noble cause.
On behalf of Trust, we pray "HariGuru" to bless all our Well-wishers, Donors with good health, prosperity for a contended life ahead.
Also our sincere prayers offered to Lord VyasaRaghupathi Narasimha and at the Lotus feet of H.H. Shrimad Samyamindra Thirtha Swamiji for blessing our beneficiaries with good health and peaceful life.
The Website dedicated to great saint, second pontiff of Shree Kashi Math Samsthan, His Holinesss Shrimad Keshavendra Thirtha Swamiji, www.kehsavendhraswamicharitabletrust.com was released by Divide hands of Parama Pujya Kashimathadipathi H.H.Shrimad Samyamindra Thirtha Swamiji at the Divine Sannidhi's of Lord Vyasa Raghupathi Narasimha and Lord Veera Venkatesha at the premises of Shree Venkatramana Temple, Car street, Mangaluru on 20th February, 2021.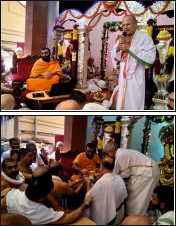 Healthcare Initiative - Downs Syndrome
Future plans for Healthcare schemes: A Scheme to help the needy sections of Society, "Exploring the Unexplored".
The Trust plans to support the needy patients suffering from Downs syndrome, Juvenile Diabetes Mellitus (Insulin dependent), Nephrotic syndrome, Cerebral palsy, Kids with Epilepsy, Thalassemia etc. Kashimathadipathi H.H. Shrimad Samyamindra Thirtha Swamiji has blessed the Trustees to go ahead with Healthcare support for "Downs Syndrome" and other cases in a phased manner.
H.H. Swamiji released the Healthcare Brochure 2022 on 15th August 2022 at Mangalore and blessed the Trustees with success in this new initiative. All the Trustees of the Trust received the Prasadam from H.H. Swamiji.